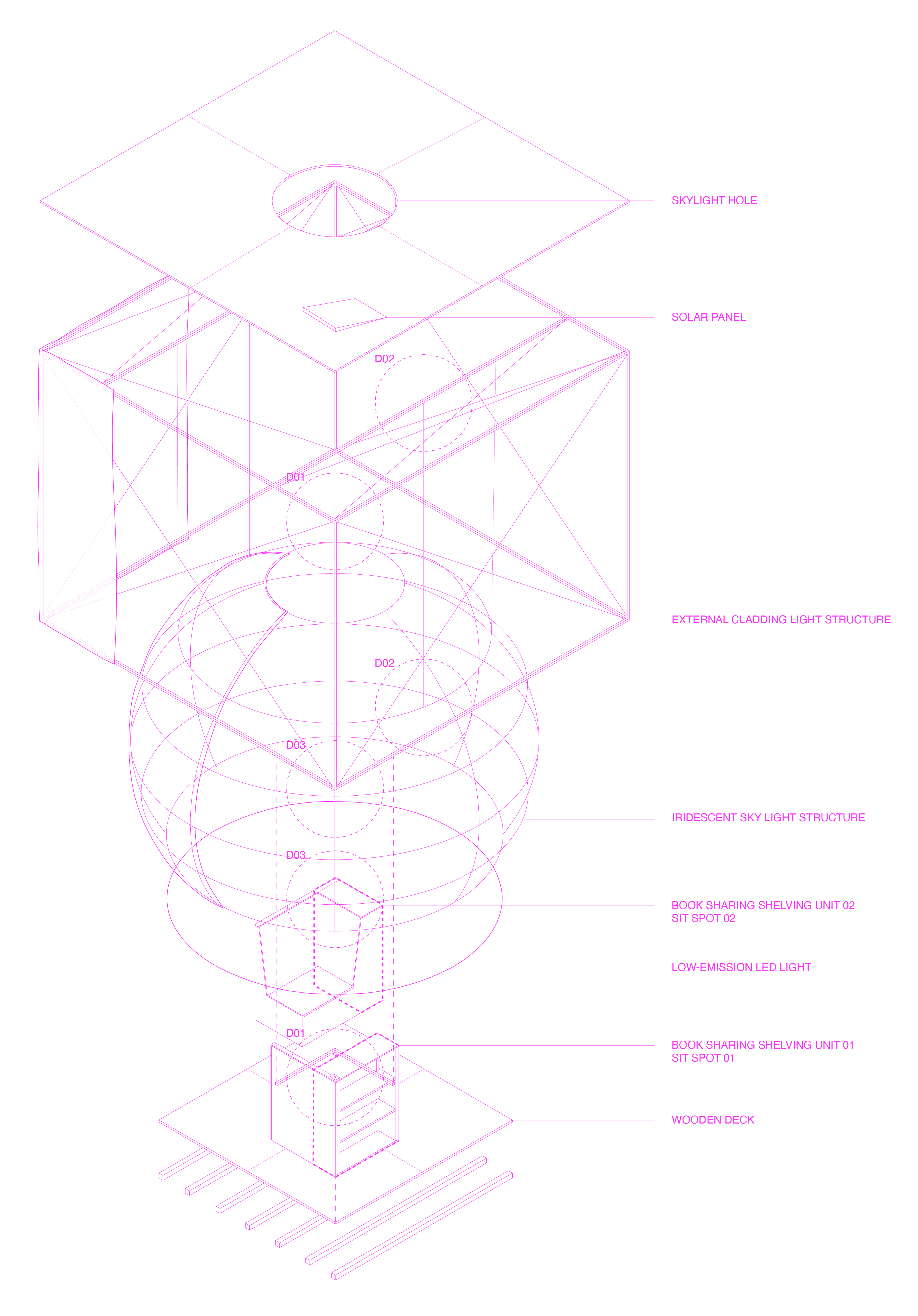 "I guess you are kind of curious as to who I am, but I am one of those who do not have a regular name. My name depends on you. Just call me whatever is in your mind."
Human who lives in thought of clouds somehow is scared of flying. Looking through only one perspective is always safe and ideal for most. But for the others who seek adventures and unknown worlds, we welcome you to Nameless Sky.
In here with every book that you exchange you also exchange your imagination, universe, and mind. In the sky of books, names, and imaginary you do not have to stick with only one, you can experience endless possibilities. In every book you've read you meet with another universe, but in Nameless Sky you have the whole galaxy with colorful skies. This is why it does not need a single specific name, sky or book. Experiencing the unknown is easy: readers only need to go with the flow of their imagination.
The proposal consists of a nine square meters wooden open-air platform (a space for the human body) dominated by an unusually colorful sky (a space for the human mind). This design is all about the relationship between these two realms.
The users interact with the platform in two ways: from inside it contains two intimate and comfortable sits which from outside integrate two book sharing shelving units. The colorful sky is made by an iridescent foil, enclosed and supported in a semi-transparent light structure. It seeks to stimulate an artificial experience that alters the perception of the reality without losing contact with it: an open skylight and the transparency of the envelopes allow the local weather to constantly affect the environment. Despite it is open-air, the threshold represents an important and symbolic element for this design. Defined and enhanced by the dimension of the light structure of the colored sky, it requires the users to gently bend over in order to both access the inner and the outer part of the wooden platform. Reading a book is a serious activity that needs concentration.
A park-scenario is proposed as the ideal context: a place where the sounds of the city are screened and the presence of trees enhances the way how the natural environment affects the artificial one. In order to allow an easy and quick construction all over the world, the design is built up with standard-modular elements, which once disassembled might be all transported in a van. Since this is an off-grid proposal, a small solar panel supports the only energy-requiring device, a low-emission led light which allows the iridescent sky to glow also at night time.
Whatsoever is the subject, every book corresponds to a different imaginary universe. Nameless Sky comes from the union of thousands of them.
"A crack of gray sun shone through the window and lay quietly on the floor. I went over and put my foot in it, and then my foot was grey. We have an interesting thing with the sun here. It shines a different color every day."
Quotes from Richard Brautigan, In Watermelon Sugar
READ THE INTERVIEW
ORDER THE BOOK